My business name, The Hive Marketing came to be as a result of a change in my business. The ideals, values and vision for my brand has shifted slightly, so it ws time to reflect that in my name and logo.?The?move into a more collaborative model, working with other talented solopreneurs to achieve great results for our clients, meant a move away from using my name in my businesses' name. Secondly, I felt the need to give my business it?s own persona. I want this company to stand on its own, for SEO purposes and beyond.?Read more about my new name in this blog post.
So how do you know when it's time for your company to rebrand??Truly, the step to rebrand is a significant one. It's a commitment that you shouldn't take?lighlty, however at the same time, you don't want to be left holding on to a public view that is no longer working for your vision, target market and business.
To rebrand or not to rebrand — that is the question?

Some examples of times when a rebrand is necessary:
1. Big changes in your business: growth of team, focus on new product or service.
Your business has shifted focus; you've begun as a soloprenuer and transitioned into a company with a bigger mission and more staff members. A great example is Airbnb.?What began as two guys attempting to make rent money by renting out?their mattress has become a global lifestyle brand.
As the company has grown, so has their mission – the new goal is to give Airbnb an offline presence as ubiquitous as its online presence?all while laying the foundation for marketing a slew of new sharing-economy services down the road.
"I feel our brand of yesterday was starting to hold back our ability to go mainstream, and limiting people's idea of what it could become. This new branding changes the whole identity and expression of the company." Brian Chesky, CEO, Airbnb
The logo on the left was a great starting point for the start up. Now that Airbnb is attempting mainstream, global presence, a simplified, elegant logo was necessary.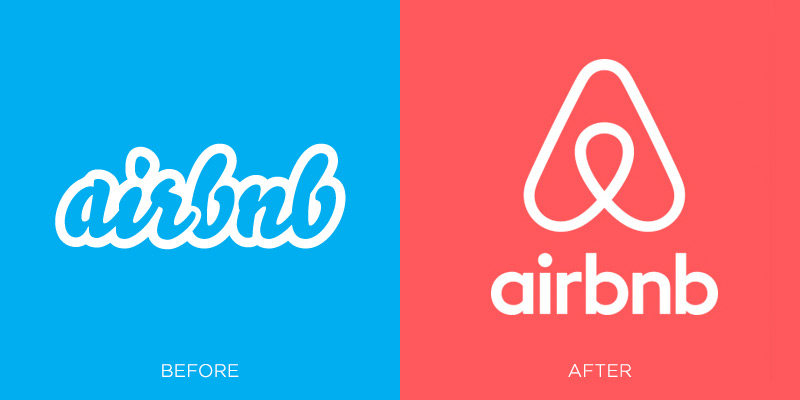 2. Changing location – where the change provides an opportunity to re-focus.
Did your business add a new location? Or perhaps you've moved to a new nieghborhood or city. Perhaps you're adding many locations? Does your logo and mission reflect this change? If not, its time to consider rebranding.
3. Changed perception – customers are receiving one thing while you're advertising another.
Perhaps the value you bring to your customers is different than what you think.?For example, in 1976, Apple Computers debuted their rainbow apple.??As they evolved and developed new products, so did their logo and design.
By 1998, the company was known as simply, Apple, and multi-colored apple became all black, sleek logo for furthere flexibility. This emphasizes the new direction Steve Jobs would take the company as he returned; a focus on technology lifestye products.
In 2001, and 2003, the logo has evolved to be universal to all Apple products despite format, size and replicate the look of the items.
Your brand and your vision shoud have a lot of shared characteristics as we've seen in the examples above. Your brand and brand identity including name and logo communicate for you when you're not there. They can sell your business and services, attracting the right customers. They can also work in the opposite way to detract clients.
Need more information on how to rebrand?
{{cta('f34d1d5e-aa7e-46d2-a7da-eff529851af7')}}